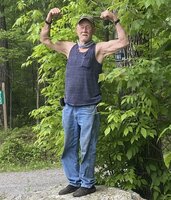 Gary McElroy
Gary McElroy "Slow Poke" of Otisville died on Sunday March 19, 2023 surrounded by his family and loved ones, after a brief battle with cancer. He was 72.
The son of the late James McElroy & Marjorie Gailwater he was born on July 21, 1950 in MIddletown, NY.
A dedicated father, brother, uncle and friend to many. He is survived by his wife Lisa McElroy. Children Heather McElroy, Jon Lazier, Cindy McElroy, Nikki Hernandez, Carol Khatib, George McElroy, Marjorie EcElroy and Shayn Conklin. Grandfather of 20.
All are welcome to join in a celebration of Gary's life on July, 22, 2023 at the home of his daughter Nikki Hernandez.