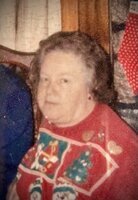 Helen J. Bond
Helen J. Bond of Sparrowbush, NY, died on February 19, 2023 at Bon Secours Community Hospital in Port Jervis, NY. She was 87.
The daughter of the late Leola and Chester Bensley, she was born December 19, 1935 in Newton, NJ.
She was employed as a Seamstress for many years in the garment industry.
Beloved wife, she was predeceased by her husband, Robert Bond. Loving mother to Debra Ann Hughes, and the late Dolores Swisher. Grandmother to grandsons, Ryan Swisher and Joseph Dudeck; and granddaughters Heather and Carla Hughes. Godmother to Terri Constantino and Dear Aunt to Suzanne Bloomer and many nieces and nephews.
Helen was the last of 10 siblings in her family.
There will be a visitation on Friday, February 24, 2023 from 10:30-11:00am at Knight-Auchmoody Funeral Home, 154 East Main Street, Port Jervis, NY. Entombment to follow at Newton Cemetery, Newton, NJ.
To leave a memory or condolence on Helen's tribute wall, visit Knight-Auchmoody.com