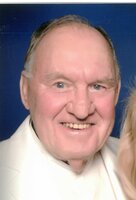 James Raymond "Jim" Rogers
James (Jim) Raymond Rogers, 88, passed away February 11, 2023 of complications of Parkinson's disease.
He is survived by his beloved wife of over 51 years, JoAnn (Skinner) Rogers. Born February 13, 1934 in Minneapolis, MN, he was the son of late Raymond Rogers and Laura Toughill. The family moved to Duluth, MN in 1940 at which time he attended Irvine Grade School, West Junior High and Denfeld High School all in West Duluth, MN. While at Denfeld he starred in the track and basketball programs. He was one of the top ten dash men in the state. He attended St. John's College where, as a freshman, he played starting guard on the varsity basketball team.
He joined U.S. Steel in Fairless, PA as a Metallurgical Observer in the Quality Control Department. He was promoted to the Industrial Engineering Department after earning yearly awards for the greatest number of new cost saving methods. In 1963 he joined Olin Mathieson Aluminum Company in Hanabil, OH as Chief Methods Engineer. He then moved to Anaconda Aluminum Company in Terre Haute, IN as Manager of Systems Design. Several years later he joined Brooks and Perkins in Southfield, MI as Chief Industrial Engineer reporting to the Chairman of the Board. B&P was a design and manufacturing company of military and aerospace product with five different manufacturing facilities.
Over the next 23 years Jim was appointed President of each division, more than once, to correct problems that were causing poor performance. He earned a reputation as a person who quickly turned unprofitable manufacturing companies into profitable ones.
In 1990 he was appointed as President of the Interiors Division of American Safety Flight Systems in Southern CA. Four years later he joined B/E Aerospace as Vice President of Operations over five facilities located in the United States and Europe. He retired in 2000.
He and JoAnn enjoyed many years of travelling to many cities in the United States, Europe, England, Scandinavia, Hawaii, Alaska and the Caribbean.
Surviving with his wife, JoAnn, are 5 children: Mary Pamela Rudi and her husband, Joran residing in Oslo, Norway, Raymond James Rogers, Cary, North Carolina, Laura Helene Angley and her husband Tom, Princeton Junction, NJ, Gary David Rogers and his wife Stella, San Diego, CA and William James Rogers and his wife Sabrina, Frisco, TX, along with 10 grandchildren, 1 great-grandchild and several nieces and nephews. He was preceded in death by his sisters Dolores Pollard and Patricia Vasile.
Visitation Tuesday 2/21/23 from 4:00-7:00pm at Knight-Auchmoody Funeral Home, 154 East Main Street, Port Jervis, NY. Funeral Service Wednesday 2/22/23 at 11:00am at the Funeral Home; Burial immediately to follow at Pine Hill Cemetery, Sparrowbush, NY.