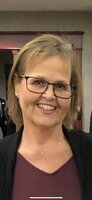 Karen Lyn Bucher
Karen Lyn Bucher 63, died on the morning of February 4, 2023 at the Karen Ann Quinlan Home for Hospice, Newton, New Jersey from the effects of liver disease.
Karen was born August 12, 1959 in Port Jervis, New York to the late George Otto and Elizabeth Lane Campbell. She married Mitchell Bucher and they welcomed two beautiful daughters to complete their family.
Karen was baptized as one of Jehovah's Witnesses at Monroe, New York; as of late associated with the Port Jervis Congregation. For many years Karen and her husband owned and operated Campbell's Bus Service in Matamoras, Pennsylvania. Later she enjoyed working for Port Jervis Chiropractic and interacting with the many clients and her caring employer, Dr. Joseph Spano.
Karen is survived by her ex-husband Mitchell, daughters Kaitlyn and Isabella Bucher; three brothers, George, James and Jesse Campbell and their spouses, two uncles, four aunts, many nephews, nieces and cousins.
Karen was predeceased by her parents, her brother Keith Campbell and her sister Sharon Campbell Stone.
A memorial service will take place 2PM on Sunday 2/19/23 at the Kingdom Hall of Jehovah's Witnesses 100 Shinhollow Rd, Port Jervis, NY 12771.