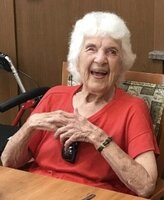 Ruth E. Harford
Ruth E. Harford of Matamoras died on January 24, 2023 at Delaware Valley Skilled Nursing. She was 97.
The daughter of the late Ernest and Mary Coslick Wieboldt, she was born on August 24, 1925 in Greenville, NY.
Ruth worked as a seamstress at Andmore for many years. She was a former longtime member of the Greenville United Methodist Church.
In addition to her parents Ruth was predeceased in life by her husband Harold "Hap" Harford and siblings Lillian Andriack, Marie Hart, Margaret Uszenski, Ernest, William, Richard, John and Roland Wieboldt.
She is survived by her sister in law Dorothy Wieboldt, Lorraine Knapp, Eppie Harford, Dennae Harford and many nieces and nephews.
Donations may be made in Ruth's name to the Humane Society of Pike County 189 Lee Rd, Shohola, PA 18458.
As per Ruth's wishes a private cremation will take place and she will later be buried in the spring with her husband.