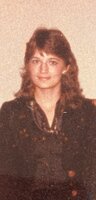 Susan A. Hogan
Susan A. Hogan of Milford, Pennsylvania, died suddenly at home on September 25, 2022. She was 67.
The daughter of the late Roger Panuto and Ann Tanner, she was born April 17, 1955, in Middletown, New York.
Susan loved animals and volunteered at the Deerpark Humane Society in Port Jervis, NY.
Susan was reunited in death with the love of her life, the late Michael Hogan. She was a devoted mother to her son, John Josd and his wife, Brandy Passarge of Matamoras, PA. Loving grandmother of Jesse Josd. Dear sister of Robert Panuto and his wife, Yongjing of Wurtsboro, NY. Cherished niece of Alice Pagano. Stepdaughter of Edson Mosher of Milford, PA. Dear friend of Andrea Bajek and family.
Arrangements entrusted to Knight-Auchmoody Funeral Home. Services are private at this time. She will be buried with her Michael at Pine Hill Cemetery. Please visit Knight-Auchmoody.com to leave a memory or condolence on Susan's tribute wall.
Donations may be made to the Deerpark Humane Society, 202 US-209, Port Jervis, NY 12771.