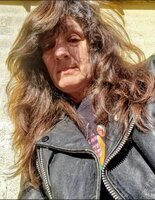 Mary D. Sagona
Mary Deborah Sagona (nee Lodise) age 60, passed away July 29, 2022 in her home in Glen Spey, NY where she lived with her husband Stephen Sagona since 2016. She was born in Brooklyn on December 5, 1961 and adopted by her loving parents Rocco and Andreana (Baccali) Lodise. Mary spent most of her life on Long Island, where she raised two sons on her own: William and Robert. Mary was also a grandmother to Robert's daughter Lola.
Mary graduated from Mineola High School, and spent many years working in the produce industry including at the Hunts Point Produce Market. Mary also worked in a veterinary office, and later opened a pet shop for puppies called The Left Paw. Mary enjoyed being connected to nature and the outdoors. She loved kayaking and had a kayak she named Mother Nature. She would often take cuttings from plants to bring home from wherever she was (and wasn't sorry about it) and had a keen sense of botany. She loved dogs and cats and had many over the years, starting with her first beloved dog Tina, and including other forever friends Amber and later Bella who helped her through hard times.
Mary was a multiple cancer survivor over the years, but was diagnosed with ALS in 2019. She was cared for at home by her loving husband Stephen, and surrounded by her 2 dogs Pizza and Macaroni, and 4 cats Calzone, Scungille, Ravioli and Ziti. She truly enjoyed her golden years in Glen Spey, and loved the mountains and interacting with all the flora and fauna from her deck.
Mary is survived by her husband, two sons, granddaughter, her mother and aunt Betty, brother John and family; and a number of other loving relatives and close friends. The family wishes to thank all those who cared for her during her treatment for ALS and hospice care.
Services are private at this time. Please take advantage of the condolence tab and leave a memory of condolence for the family.