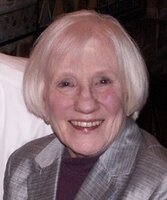 Carol J. Tanelli
Carol J. Tanelli, 88, of Bloomfield, NJ, and more recently of Port Jervis, passed away on July 27, 2022 with her loving family by her side. Carol was born in Irvington, NJ on January 3, 1934to the late Henry and Mary Irene Eisinger.
Carol was a devoted mother who guided her children quietly but wisely. Grammy adored her grandchildren and showered them with love and treats. She was a loyal friend, and stayed close with her high school pals throughout their lives. She lovedanimals, especially cats.
Carol worked in administration for many companies over the years, most notably for the Newark Museum, which she enjoyed greatly. She loved tending to her garden and yard and could often be found in the kitchen singing along with the radio. She loved to entertain and threw wonderful parties. She enjoyed reading, word puzzles, antiquing, ice cream and Wheel of Fortune. She'll be remembered for pecan sandies, pot roast, her kisses and much more.
Carol leaves behind her children, Timothy R. Webb and his wife Peggy and Patricia de la Cadena and her husband Gaston; grandchildren, Rachel Cimbak and her husband Brian, Grant Webb, Faith Hulme and her husband John, Noah Webb, Aidan Webb and Olivia Webb; great granddaughter, Amelia Cimbak; nieces and nephews, Leslie, Doug, Don, Phil, Stephen, Laurenand Vance. She was predeceased by her son, William "Billy" Webb; siblings, Dorothea Baduini, Lucille McCarroll, NormanEisinger, Henry "Sonny" Eisinger; and her former husband and father of her children, Robert J. Webb.
Family and friends are invited to pay their respects on Monday,August 1, 2022 from 9 a.m. to 9:45 a.m. at Parish of the Immaculate Conception/St. Mary's Church, 48 Ball St., Port Jervis, NY. A Mass of Christian Burial will be celebrated at 10 a.m. Burial will follow at Mount Olivet Cemetery, 23 Cottage Pl., Bloomfield, NJ.
In lieu of flowers, memorial contributions may be made to Alzheimer's Association www.alz.org